Protecting the Life that Sustains Us.
The little things that run the world
With well over one million known species, insects and other invertebrates eclipse all other forms of animal life on Earth. Invertebrates are essential to the reproduction of most flowering plants, including many fruits, vegetables, and nuts; they are food for birds, fish, and other animals; they filter water and keep our rivers and streams pristine; and they clean up waste from plants and animals. They truly are "little things that run the world."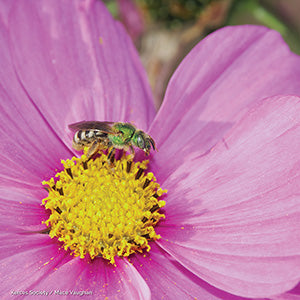 Guided by Science
At the Xerces Society we maintain science at our core, and use evidence to guide our actions. We seek out answers to the many uncertainties about invertebrate conservation and find ways to engage as many people as possible in addressing threats and rethinking how we care for our environment. People turn to us for guidance and practical solutions.
Making an impact
We have worked with partners to create and restore almost a million acres of habitat for invertebrates, including habitat for some of the most imperiled species on the planet, such as the the monarch butterfly and rusty patched bumble bee. Our advocacy has helped 24 communities pass policies that protect pollinators from neonicotinoids and other harmful pesticides. We have trained thousands of farmers, land managers, and gardeners on how to protect the invertebrates of their communities.